It is the aim of OSADA to manufacture environmentally friendly products worthy of the trust of both users and patients.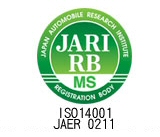 OSADA ELECTRIC CO., LTD./NAGOYA FACTORY
Environmental Policy
To achieve status as a corporation committed to our mission of "promotion of human health and happiness through medical devices," we shall take the environment as a starting point in the activity and further, we maintain, conserve and improve the environment.
We shall observe legal regulations and agreements pertaining to the environment and, where possible, undertake the establishment, maintenance and improvement of self-imposed standards.
We shall set and, where necessary, review environmental goals and standards to promote ongoing improvements in environmental-conservation activities and anti-pollution measures.
We shall take environmental issues into consideration relating to our manufacturing processes and shall undertake corporate-wide measures to achieve savings in resources and energy as well as reductions in waste products.
We will make efforts to conserve local environments and effective contributions to local communities in order to achieve regional environmental harmony.
In order to ensure heightened effectiveness of this policy, we shall provide education and training and implement awareness-promotion activities aimed at raising the levels of awareness of environmental issues of our employees.
In line with this policy, we shall ensure heightened effectiveness and ongoing improvement of our intra-corporate management system.
We shall publicize this policy outside our corporation.
Undertakings
January 18th, 2018
ISO 14001 : Registration Renewal of 2015 Certification Completed.(JARI)
Registration change of 2015 completed through JARI
January 29th 2013
Acquisition of Recognition as Nagoya City- Approved Superior Ecological Place of Business.
Recognized as Nagoya City Approved Superior Ecological Place of Business on January 29th ,2013.

(What is the Superior Ecological Place of Business System?)
The Ecological Place of Business approval system is designed by the city of Nagoya to award the approval as an "Ecological place of Business" to places of business implementing self-imposed and positive environmentally friendly measures in the pursuit of their business activities.
July 26th ,2005
Acquisition of Recognition as Nagoya City- Approved Ecological Place of Business.
Recognized as Nagoya City Approved Ecological Place of Business on July 26th ,2013.

(What is the Ecological Place of Business System?)
The Ecological Place of Business approval system is designed by the city of Nagoya to award the approval as an "Ecological place of Business" to places of business implementing self-imposed and positive environmentally friendly measures in the pursuit of their business activities.
Place of Business can be referred to the web site of Nagoya city
December 14th, 2000
Acquisition of ISO 14001 through JARI.
The acquisition of the certificate of the Environmental Management System through JARI